11. 4. 2019
The Legal 500 recommends ŘANDA HAVEL LEGAL
The prestigious rating agency, The Legal 500, once again recommends ŘANDA HAVEL LEGAL and its lawyers.
The Legal 500 Europe, Middle East & Africa 2018, an independent guide which evaluates law firms and individuals all around the world, recently published their 2019 rankings. ŘANDA HAVEL LEGAL is once again among the ranked law offices in five monitored areas. Six of our lawyers are recommended as specialists in these specific areas of law.
The most important for us is the positive evaluation of our clients who appreciate (among others) our "business approach, clarity in its communication, knowledge in the sector and its dedication to achieving the best outcome".

ŘANDA HAVEL LEGAL is recommended in these areas:
- Real estate and construction
- TMT

The recommended specialists are:
- Martin Řanda (Dispute Resolution, Real Estate and Construction)
- Jan Havel (Dispute Resolution, Projects and Energy)
- Tomáš Rydvan (TMT)
- Alois Šatava (Corporate and M&A)
- Matyáš Kužela (TMT)
- Tomáš Slabý (Real Estate and Construction)

You can view the results here


About The Legal 500 international publication
The Legal 500: Europe, Middle East & Africa international publication annually maps out law firms from all over the world according to individual categories, orientation, projects, clients and other specifications. Four million readers and 2.5 million companies gain simple and instant access to the results of the ratings of law firms and their worldwide rankings, including comprehensive analyses and current information, via this electronic publication.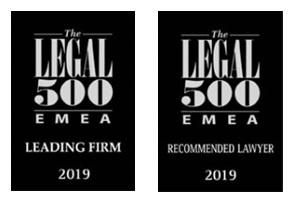 102