13. 3. 2020
ŘANDA HAVEL LEGAL succeeded in Chambers Europe 2020
Chambers & Partners, the prestigious rating agency that maps out the quality of legal services in Europe, named ŘANDA HAVEL LEGAL as a "Recommended firm" in the Dispute Resolution category and a "Recognised firm" in the Labour Law category in its 2020 ratings.
"We are pleased to be awarded by the renowned Chambers & Partners agency. Receiving this prestigious recommendation is an important award for our law firm and emphasises the quality and professionalism of our work - especially the deserved respect and strong reputation of our legal team," said Martin Řanda, Managing Partner, about the success of RANDA HAVEL LEGAL.
About Chambers & Partners
The Chambers Europe Awards for Excellence are presented by London-based Chambers & Partners publishing house, which evaluates the legal services market across the world. Since 1990, Chambers & Partners has published an annual rating publication that maps out the best-quality law firms in Europe, the USA, Latin America and the Asia-Pacific area on the basis of independent evaluations and commentaries. The evaluation parameters include expert legal knowledge, professional conduct, the quality of customer service, commercial intelligence, conscientiousness, application and other elements appreciated by clients.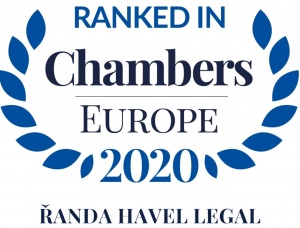 102